In Collaboard you can use a pen or a mouse to sketch, draw and write naturally. There are different pens available for different use cases.
Collaboard detects automatically if you are using a pen or a mouse. If you have a device that enables pen input you can start writing just by putting the pen to the surface.
When you start writing then Collaboard is using by default the "Pen" with the color black and the size 4.
In the menu, you can choose a different pen, another color and adjust the size of the pen.
You can choose "Pencil", "Pen", "Brush", "Highlighter", "Nib/Marker" or "Eraser.

When you choose another pen or color, you set Collaboard automatically in drawing mode. To exit the drawing mode, you need to click on "Draw" again.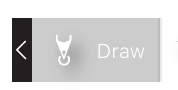 Pen Auto-detect
By default, Collaboard detects your pen automatically. In case you do not want this you can switch the "Pen Auto-detect" feature off.
You find the "Pen Auto-detect" feature under settings.