How to work with videos
You can record a video with your device's camera directly in Collaboard. Make sure your camera is not used with another application.
For example, if you are in a video conference and the video conference software uses your camera, it will not be available in Collaboard. Make sure to deactivate your camera in the other application.
Make sure your browser has access to the camera and the microphone
If you have more than one camera, you can switch between them using the "camera switch" icon on the bottom right of the left panel menu.
When you record a video, it will be added to the center of your whiteboard.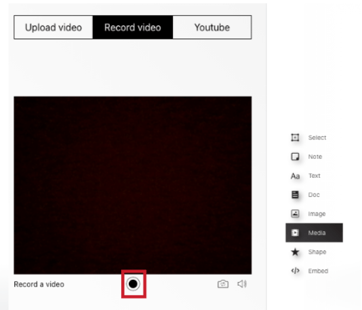 When you are recording there, you see the duration of the recording and a red square. Click on the red square to stop the recording. The video is generated and added to the whiteboard when you stop the recording.